Hospital elevators also known as the patient elevators. Skodtec has the right choice, we have developed hospital/service elevators especially for high-traffic public and private buildings. They fit into hospitals just as well as hotels, shopping malls, office buildings. They are cost-effective and reliable. From the simple transport of a patient on a wheelchair to the wheeling of a critical patient on a bed without disturbing his life support system with doctors and nurses assisting, smoothly, silently and quickly, without jerks and shocks.
For hospital bed elevator we recommend a size of 1600 mm x 2400 mm. So, It ensure easy movement of beds and equipments. This lifts may be prefer as to their variable carrying capacities from 1600 kg to 2000 kg. The suggested speeds are 0.40 mts. per second for hospitals having two floors. And 2.5 mts. per second for multi storied hospitals. Special cars are designed to cut off unwanted noise and door hangers are cushioned with rubber tyres to add silence to the operations. Skodtec Elevators always on your side for your needs.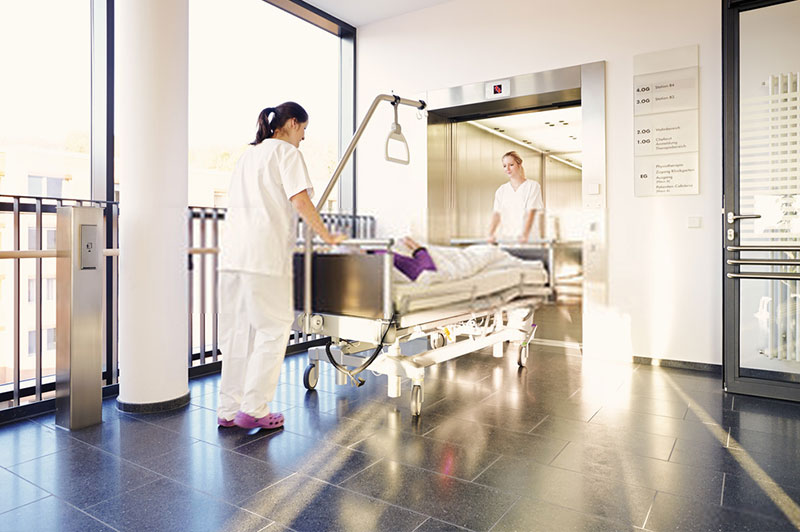 Hospital Elevators
Our Collection
Hospital Bed Elevators
Hospital Lifts should comply with health hygienic regulations including antibacterial safety measures. The interior decoration of the hospital elevators is using stainless steel. Also, the brightness will fix at a level that does not disturb the person. Hospital elevator buttons are in a lower position than other types of lifts. In addition, their doors are wider than other types of elevators. Hospital elevators have a different design compared to other elevators offered. Precautions should be taken for every case of power cuts. Hospital lifts can be prefer as semi-auto, full auto or hydraulic lifts.
Human life is more important and valuable than anything else. So, Maximum safety is our urgent factor to ensure the customer requirements. Therefore, all our lift installations techniques comply with European Regulations and installed with adequate guarantee in quality. It is specifically create to manage issues with stretchers and wheelchairs for patients. This builds complete unity to the hospital environment with its own design concept.
We are here 24/7. You can call us by phone or email us directly.
Y02, Engalnd Cluster,
Office No. S-04,
International City,
83782 , Dubai, UAE